This dynamic photography duo knows weddings inside and out, and not just because they've been working together as a husband-and-wife storytelling team for over a decade. Meet Ryan and Rachel Moser, the talented duo behind Ryan & Rach Photography – a Gold Sponsor
for this year's
OBXWA Wedding Weekend + Expo
!
Their artistry reflects a contemporary style with warm sun-kissed tones and an editorial edge. Since relocating to the Outer Banks, they have been hustling to grow their business and expand their reach across the globe. Despite their busy schedules, they remain dedicated to staying fit and cozying up with their adorable English bulldogs. Adding to their excitement is the anticipation of the arrival of their baby girl in late March!
Read on to learn more about Ryan & Rach Photography in our Q&A below. 
When did you begin photographing weddings? 
Ryan's passion for photography began in high school, and I, Rach, would always lend a hand as his second shooter. It wasn't until 12 years ago, that we officially teamed up and discovered the magic of working together to capture those unforgettable moments for our couples. Our shared love for the art of photography has only grown stronger with time, and we feel so fortunate to have found such a fulfilling and rewarding calling together.
What makes an Outer Banks wedding unique and special to you?
An Outer Banks wedding is unique and special to us for many reasons. Firstly, the natural beauty of the area, with its picturesque beaches, sand dunes, and ocean vistas, provides an incredible backdrop for capturing stunning wedding photos. The lighting is also unique, with the sun and sky offering a warm and inviting glow that can enhance the beauty of the couple and the surroundings.
Moreover, Outer Banks weddings often take place in historic locations, such as lighthouses, coastal estates, and quaint seaside towns, which can add depth and character to the wedding photos.
The relaxed and laid-back atmosphere of Outer Banks weddings is also very appealing. The coastal vibe and casual approach allow for a more natural and spontaneous style of photography that can capture the essence of the couple's personality and the joyful celebration.
Finally, as a destination wedding location, Outer Banks weddings often bring together family and friends from all over the country, creating a unique and memorable experience that we can capture through candid and emotional photos. All these factors make an Outer Banks wedding a unique and special opportunity for us to create a stunning and personalized collection of photos for the couple.
What are you most looking forward to about the 2023 Wedding Weekend? 
We absolutely adore expo weekend – it's the perfect opportunity to connect with incredible couples and learn all about their unique wedding visions. We relish the chance to catch up with our wedding industry colleagues and friends, who we fondly refer to as "wedding-friendors". For us, this event is the ultimate kick start to the wedding season here on the Outer Banks. We can't wait to soak up the excitement and inspiration that the weekend always brings.
Do you have any advice for a couple booking your services?
If you're searching for the perfect wedding photographer, our number one piece of advice is to find someone you really click with. After all, this person will be by your side for a significant portion of your big day, so it's essential that you enjoy their company and feel comfortable around them.
Another crucial tip is to secure your photographer as early as possible. We typically book up 1-2 years in advance, so it's important to reach out as soon as you have your wedding date confirmed. By taking care of this early on in your planning process, you'll be able to rest assured that you've got one of the most important aspects of your wedding day sorted out.
Please provide any other information about yourself/business that a couple MUST know!
We don't simply label ourselves as photographers. Rather, we consider ourselves craftsmen, constantly striving to perfect our art with each passing year. For us, technology is a tool, not a crutch, as we aim to create authentic and timeless photos that will stand the test of time. Our philosophy is centered around the idea that if we were the ones getting married, we would want to proudly display photos that can stand the test of time without looking dated.
We hold ourselves to high standards and are often self-critical, but we believe that this mindset is what sets us apart from the countless other talented photographers out there. We don't rely on excessive editing or gimmicks to make our work stand out. Instead, we take a more natural and organic approach, allowing the beauty of our subjects and the surroundings to speak for themselves. By staying true to our vision and our craft, we believe that we can create truly exceptional and meaningful photographs for our clients.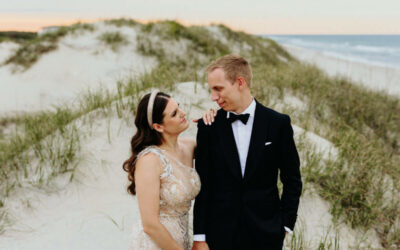 An elegant coastal wedding with understated tropical elements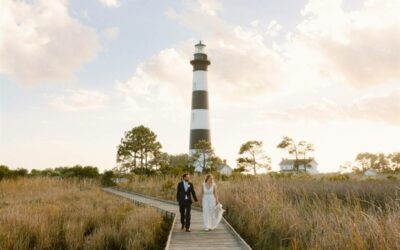 An intimate ceremony at Bodie Island Lighthouse followed by a romantic oceanfront reception with modern autumnal details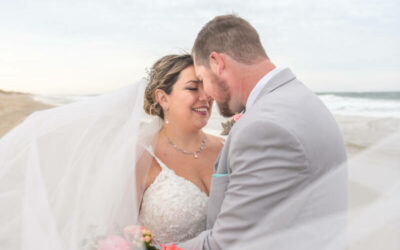 A beachy meets elegance wedding at Haven on the Banks in Nags Head featuring a pink and seaglass color palette