Real Outer Banks Wedding
As creatives themselves, Molly and Sean's wedding vision was of the utmost importance. With the dedicated work of theiir vendors (and guests), they were able to pull off a brilliant and memorable occasion that will be cherished for years to come. Their wedding is a fantastic example of a smaller guest list with a big focus on all of the details!
FEATURED VENDORS
Beauty + Spa | Salty Hair Salon
Floral + Decor | Clever Girl Florals
Caterer | Red Sky Cafe
Photographer | Sarah D'Ambra Photography
From the Couple
Please tell us why you chose the Outer Banks for your wedding.
The Outer Banks was an easy decision for our wedding setting. It has been a special place for Molly's family ever since her grandfather flew over the beautiful stretch of barrier islands as a Navy pilot and decided he wanted to be down there hanging with his family on the beach as soon as he touched down. As the story goes, he would frequently perform a series of highly skilled loops and epic barrel rolls. "Hammerheads" were his specialty, climbing straight up vertically until stalling out as if his aircraft was frozen in time before plummeting back down to earth and pulling up hard to level off before skimming the sea. For the beach goers viewing below, his maneuvers seemed to defy the laws of physics.
While the McNally Family has been coming to OBX for the last 50 years – this is truly where the Cohan Family can thrive! Sean was able to kite-surf, paddle-board, or surf every day. A surf session the morning of the wedding was a total dream.
The Cohan and McNally families were truly able to spend time quality time together with sunshine, waves, and cold beers on the beach.
The party didn't stop for us – and after our wedding week we continued down to Hatteras for our Honeymoon — where Molly learned to fly on the water – We can now officially call ourselves a KiteBoarding couple. Maybe you'll catch us out on the water in the years to come!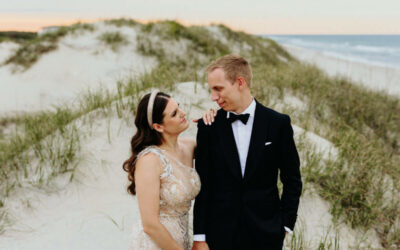 An elegant coastal wedding with understated tropical elements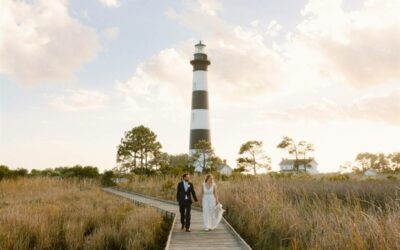 An intimate ceremony at Bodie Island Lighthouse followed by a romantic oceanfront reception with modern autumnal details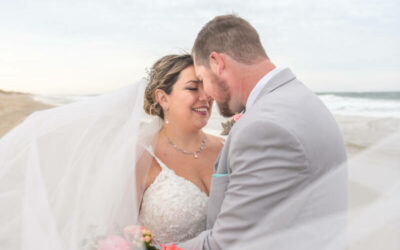 A beachy meets elegance wedding at Haven on the Banks in Nags Head featuring a pink and seaglass color palette