We are thrilled to have Whalehead in Historic Corolla as a Gold Sponsor for the 2023 Wedding Weekend and Expo! This is historic, gorgeous ceremony and reception venue has been open for Outer Banks weddings for over 20 years. 
Whalehead is a beautifully restored 1920s-era Art Nouveau-style mansion listed on the National Register of Historic Places.  It is also known for the breathtaking backdrops that include 80-year-old Live Oak trees, a unique boathouse, one of a kind footbridge, views of the historic Currituck Beach Lighthouse, and its the gorgeous location for viewing sunsets.
For events, there are five venues to choose from to accommodate a wide range of weddings: the North Lawn, South Lawn, Point, Side Porch, and the Gazebo.
Buy your tickets today to meet with and tour the Whalehead club as well as other local vendors throughout the weekend.
Read more about the Whalehead in Historic Corolla in our Q&A below. Contact Samantha Payne, Promo and Events Coordinator at the Whalehead at: Samantha.Payne@currituckcountync.gov
How long have you been involved in weddings on the Outer Banks?
Whalehead's property has been a beautiful wedding destination venue location for 23 years.  
What makes the Outer Banks unique and special to you?
The tranquility that is felt when sitting on our beautiful beaches watching an amazing sunrise or capturing that perfect sunset picture with the infamous footbridge over the Currituck Sound in Historic Corolla Park.   
What are you most looking forward to about the upcoming 2023 Outer Banks Wedding Weekend + Expo?
Meeting the couples and sharing in their excitement of what the Outer Banks has to offer for their special day.  It's exciting for me to introduce the Whalehead property to couples that have never heard of it before.  I'm super excited that Whalehead is a venue for the show, giving couples the opportunity to experience all its grand beauty for themselves.
Do you have any advice for a couple booking your services?
BREATHE and ENJOY the ride! Building an event from the ground up can seem overwhelming, but I'm here to help every step of the way.
Photos provided by Currituck County Department of Travel & Tourism, Matt Lusk Photography, Coastal Shots Photography and Sarah D'Ambra Photography
Video provided by Alex Perry, Currituck County Department of Travel & Tourism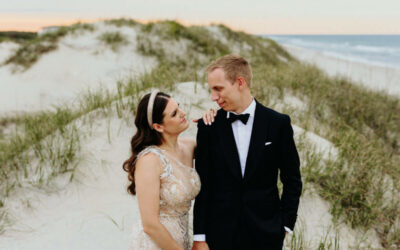 An elegant coastal wedding with understated tropical elements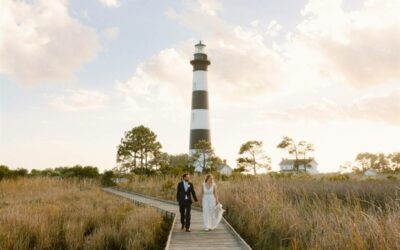 An intimate ceremony at Bodie Island Lighthouse followed by a romantic oceanfront reception with modern autumnal details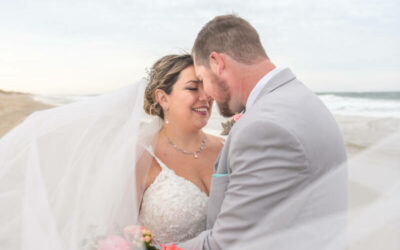 A beachy meets elegance wedding at Haven on the Banks in Nags Head featuring a pink and seaglass color palette